Portable Spa Therapy – Stress Relief – Relaxation – Negative Ions
Sharyn Boyle, September 19, 2018
It's commonly known that when most people purchase a new portable spa it is for fun or relaxation after a long day. What isn't as highly focused on is the hydrotherapy and intense health benefits not only relating to muscle and joint repair and restoration, but also the stress relief and therapeutic component. With the constant motion of water creating negative ions, using the pulsating jets in our range of spas can create the ideal environment to relieve stress and be an integral part of your mental health and well being. Negative ions commonly occur in nature near waterfalls or any body of water with a strong fluid motion, or after a rain storm. These negative ions are replicated with the motion of the water pushed through or jets and may be of great benefit to those suffering fatigue or general ill health from a restorative point of view.
Often with the stress of everyday life we don't often take time out to give ourselves the relaxation we need to keep balance in our lives, with a spa from Aqua Pulse Spas, it's easy to keep your spa at optimal temperature for year round enjoyment, and feel the stress relief and restoration for both body and mind. Contact us today on (07) 3208 4625 for delivery in your area and begin to enjoy the life changing therapy benefits of a spa from Aqua Pulse Spas. We are located south of Brisbane, with immediate delivery available to the Sunshine Coast, Gold Coast, Toowoomba and right across Australia.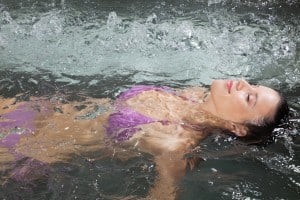 For that latest news in all things spa, subscribe to our monthly blog.