Spa Fencing Laws – What You Need To Know – Queensland
Sharyn Boyle, July 25, 2018
There is a lot of questions raised by our customers in the changes to pool and spa fencing laws. We always like to be informed so we can pass on current laws and regulation information to anyone looking to buy a spa from us. In Queensland, the same as some other states, it is legislation to have your pool and/or spa registered with council. You can do a simple check to find out if your spa or pool is currently registered by entering your address details in the property search. Your portable spa needs to meet spa or pool legislation requirements in Queensland if it –
Can hold a volume of more than 2000L of water.
Can contain 300mm water height or more.
Has a filtration system.
This means that you must comply with state regulations. We recommend contacting your local council and talking to them to confirm the necessary steps in streamlining the process of buying your new portable spa. With our vast range of spas all fitting in to the regulations that need to be adhered to, we want to make sure your experience with us is both informative and helps you make an advised decision on the best spa for your lifestyle. With spas requiring the same fencing around the perimeter as pools, and a 1.2m high barrier, sometimes a great idea is to incorporate it into your existing pool area. Most courtyards also already have tall fencing in place so it really is a case of making sure your latch to the entry area is fitted correctly with a self closing door or gate to avoid any potential accidents and ensuring all other necessary provisions are made to make sure you are covered by law.
If you sell or lease your property, you are required to obtain a pool safety certificate.
Pool safety certificates
A pool safety certificate, issued by a licensed pool safety inspector, is required when selling, buying or leasing a property with a pool.
For more information visit the Queensland Government website. Call us on (07) 3208 4625 if you have any questions relating to your new spa from Aqua Pulse Spas, we'd be happy to help.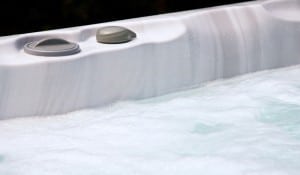 For that latest news in all things spa, subscribe to our monthly blog.